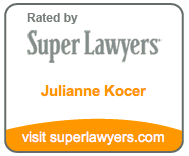 About Us – Elder Law Office of Julianne Kocer
For more information, call the numbers above
or email us by visiting the Contact Us Page.
Ms. Julianne Kocer is an Elder Law, Estate Planning, & Disability Planning attorney serving clients in Rochester and southeastern Minnesota. She is an active member of the Minnesota State Bar Association and Olmsted County Bar Association and is also licensed to practice law in Washington. Julianne received her law degree from William Mitchell College of Law in St. Paul, Minnesota.
Upon graduation, she moved to Seattle, Washington and began her legal career. While serving clients in Washington State for 16 years and operating three law offices, Julianne earned her post-doctorate law degree in Elder Law ("LL.M.-Elder Law"), with honors, from Stetson University College of Law in May 2013, a six year Master program covering all areas of elder law. She is the only attorney in the states of Minnesota and Washington to have earned this advanced law degree. Having returned home in 2016, Julianne assists clients in Rochester and southeastern Minnesota in the legal areas of Asset Preservation, Medical Assistance/Medicaid, Estate Planning, Disability Planning, Special Needs Trusts, Durable Powers of Attorneys containing asset preservation powers, disability programs, trusts, Veteran Benefits, client health care system navigation, elder abuse, trust administration during life and upon death, and estate administration during life and upon death. Julianne is also a member of the Life Care Planning Law Firm Association and of the National Academy of Elder Law Attorneys having served on the board of its Washington Chapter for over six years in all board positions and as its founding Legislative Chair.
While practicing law in Washington State, Julianne was a professor and guest speaker for the University of Washington Extension Program-Social Worker courses. She formerly served on the executive committee of the Elder Law Section of the Washington State Bar Association where she developed the Section's first grant program. Julianne has testified and written opposition papers against legislation negatively affecting seniors and disabled people. Her first article titled, "Medicaid Planning for Our Seniors," appeared in the 2002 Educational Manual of Credit Professionals International and her additional publications can be seen in "SENIORguidebook."
She was named the 2004 NAELA Member of the Year by her fellow colleagues. Additionally, Julianne was named a "Rising Star" in Washington Law and Politics for six consecutive years in the December/January 2004, 2005, 2006, 2007, 2008, and 2009 editions by the 'SuperLawyers' of Washington state, an award granted to only 2.3 percent of attorneys annually statewide who are under the age of 40 at the time the award is granted. Julianne is a frequent speaker on elder law issues, estate planning, and long term care topics for continuing education credit seminars for attorneys, financial planners, insurance agents, and social workers, and speaks often to other professional and community organizations on numerous elder law and estate planning issues. To schedule an appointment for yourself or loved one or a speaking presentation for your community organization, please call 507-218-0118, or email Julianne at info@kocerlaw.com.
Hometown: Rochester, Minnesota
Born: January 1969
The information and materials provided in this website are for informational purposes only, and are in no way intended to constitute legal advice. Transmission or receipt of any information from this website does not create an attorney-client relationship, and you should not act or rely upon any information appearing on this website without seeking the advice of an attorney. Please note also that sending an e-mail to our office does not create an attorney-client relationship, and none will be formed unless there is an expressed agreement between the firm and the client.